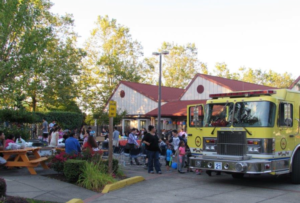 As many as 31 families and over 250 children from FHDC's Nuevo Amanecer properties in Woodburn attended National Night Out on August 2, 2016.  National Night Out is an annual community-building campaign that promotes police and community partnerships in neighborhoods to make neighborhoods safer, better places to live.
FHDC's National Night Out event helps strengthen community cohesiveness and crime resistance.  When neighbors get to know each other, they create a connected and safer community.  The event is a way for people to get to know their neighbors and their local public safety officials.  The Woodburn Police and Fire Departments were on hand to meet and talk to families about safety in our community.  Children were treated to a tour of the fire truck and its tools.  Families also had the opportunity to meet and talk with Woodburn Mayor Katy Figley.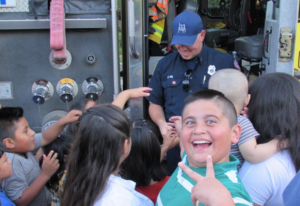 Through a partnership with Marion Polk Food Share, there were free fresh fruits and vegetables available for families.  Families ate delicious donated dishes from Don Pan Bakery and Mariscos El Sarandeado Mexican Restaurant.  FHDC staff and volunteers made the event fun by putting together a raffle and activities for children.