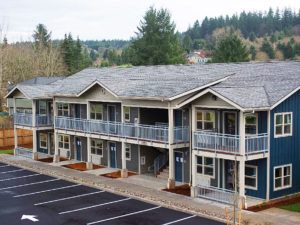 FHDC's newest property, Colonia Jardines, is now leasing!
Colonia Jardines offers comfortable apartments for farmworkers and their families in the verdant setting of Silverton, OR.   Composed of twelve (12) two-bedroom units and eight (8) three-bedroom units, and constructed with locally sourced materials, Colonia Jardines is a modern apartment community set in the bucolic setting of Silverton, Oregon.  Designed using eco-friendly construction strategies, Colonia Jardines's sustainable features include:
Drought tolerant landscaping
Non-toxic and low volatile organic compounds (VOC) materials
Hard flooring that minimizes the accumulation of allergens
High efficiency irrigation system
Energy efficient HVAC system
High efficiency water features
Energy Star rated appliances
Locally sourced materials
Benefits of Colonia Jardines's sustainable features include low utility costs and improved air quality.  Energy star rated appliances and energy efficient HVAC systems use less electricity, and thus reduces power plant emissions (from burning fossil fuels), which reduces air and water pollution, and that helps protect everyone's health and saves residents' money.
If you are a farmworker and you're looking for a stylish, sustainable, and affordable place to come home to at the end of every day, then Colonia Jardines is the place for you!