FHDC staff Emilio Her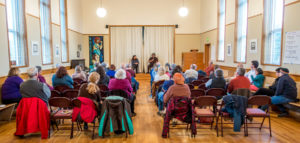 nandez recently spoke at the April 24, 2017 Hillsdale Neighborhood Association Forum.  The forum was an opportunity to learn more about racism and immigration concerns in the Hillsdale community.  The event featured Samira Godil, Executive Director of the SW Community Health Center, who is Muslim, and Emilio Hernandez, Safety Health Outreach Program Manager of Farmworker Housing Development Corporation, and a member of the Latinx community.  Forum topics included how the Hillsdale community can ensure a safe community for all, now and into the future, as well as insight into what Muslim, Jewish, Latinx, and other Hillsdale neighbors have been experiencing recently.
The forum was a notable way for communities to have an open conversation about current events affecting diverse communities.  We thank Hillsdale Neighborhood Association for the chance to talk about diversity and inclusion.