On Thursday June 14th, staff from our sister organization, Evolve Workforce Development & Property Management, traveled to Bend, Oregon for the State's largest Property Management Conference hosted by the Affordable Housing Management Association (AHMA). Two dedicated staff members Jose Alvarez & Jenifer Dettmann returned home as recognized leaders in their field.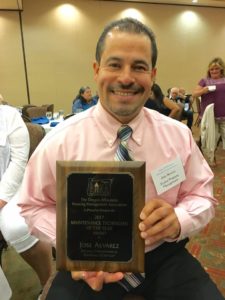 Jose was recognized as Oregon's Maintenance Technician of Year, and with good reason. The experienced maintenance veteran worked with FHDC for 10 years before Evolve formed to take over and improve workforce development and property management aspects. He is known by co-workers and residents as efficient, skilled and kind. He is the go-to for all Evolve's toughest turnovers. He enjoys training younger and more inexperienced staff the ropes of the trade.
Jenifer was recognized for going above and beyond the call of duty, which is an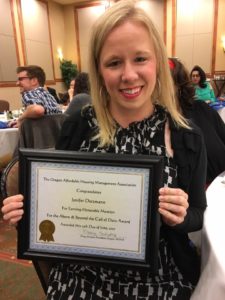 understatement for the work she has put it to make Evolve a collaborative staff that shares ideas and learns together. Jenifer guided Evolve in its first year towards a clean compliance record and was soon after promoted to the position of Director of Property Management. Jenifer enjoys creating new partnerships and has created many strategic alliances at the State Level which has positioned Evolve to become a leader in the field of mission-oriented property management.
Thanks to AHMA and congratulations to Evolve for continuing our joint dedication to improving communities in Oregon. To learn more about Evolve and its people-first approach to property management, visit www.evolvemanagement.org