Colonia Unidad (United Community), our latest workforce housing development project in Woodburn, is locking in the on the final design elements and preparing for its 2018 ground breaking. Every Wednesday of the month our FHDC team meets with principal architects from Carleton Hart Architecture (CHA), general contractors LMC Construction and liaisons from the Housing Development Center to ensure the project is moving forward on all fronts. You can read the latest updates and more about the project from the Woodburn Independent here. This week we are excited to highlight our excellent team of architects from longtime partnering firm CHA. Having a team of all women is not common and something that we are embracing. We are pleased to introduce Michelle and Carolyn!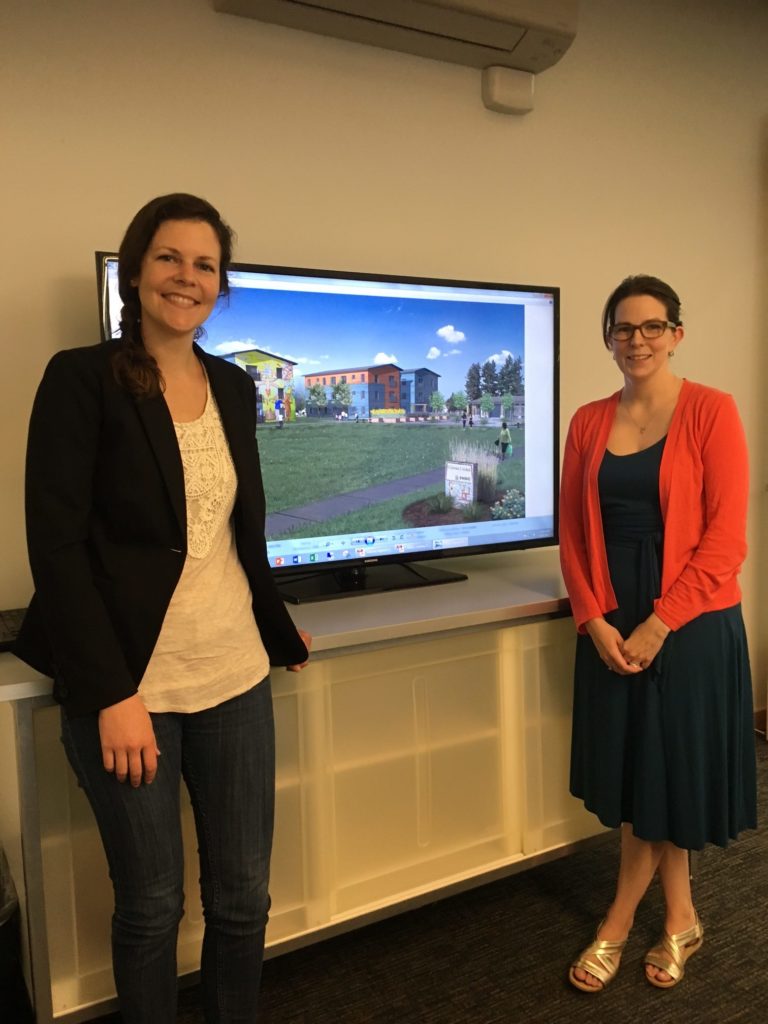 Michelle Black (right) is a Senior Associate at CHA and her knowledge, involvement and interest with affordable housing issues at the State, City and community level has earned high respect from her clients within her short time period to date at CHA. Her professional experience includes historic restoration, renovation, and new construction, ranging from public facilities to affordable housing to small residential. The dedication to her interests – architecture, social stewardship, and community building– are evident in the passion she shows in her work. In addition to her architectural experience and skills, Michelle's work is also influenced by her life-long commitment to social activism. This commitment, which led her to first think about architecture's place both in nature and the larger human community – is the reason she chose to work with CHA.
Carolyn Kruger (Left) is a Project Architect at CHA with a depth of experience in affordable housing projects, both rehabilitation and new construction. Her early interest in city planning and professional experience with urban design helped her to develop an understanding of the role economics and pedestrian scale architecture have in creating places where people want to live, work and play. Her contributions lie not only in creating a unique sense of place for the end user through site design, building design, details and interior material choices, but also in understanding the larger role that the project has in the context of the surrounding community and environment.
Thanks ladies for your commitment to our communities and for your expertise in design and the relationship between people and places. Looking forward to making this a reality.