"It was a pleasure to learn more about the meaningful way you support farm workers and their families. We were inspired and impressed by your staff's knowledge, empathy, and passion." -Colbey Carpenter, Oregon Community Foundation
In April, FHDC had its fair share of visitors interested in learning about the ways in which FHDC collaborates to build assets and community. We were happy to host the Oregon Community Foundation and 13 of their staff to:
Tour an affordable housing comunity
Discuss how FHDC's work relates to the Opportunity Gap in Oregon
Learn how FHDC's formation of Evolve is creating jobs and opportunities in the stable field of property management
Where FHDC is heading in the future
The purpose of the learning tour was to share how FHDCs work is impacting rural communities, low-income communities, and communities of color in Oregon. OCF joined us at Colonia Jardines in Silverton, OR to learn about the unique challenges, characteristics and opportunities of our newest farmworker housing community. The result: more work to be done via shared knowledge and collaboration!
Staff at Oregon Community Foundation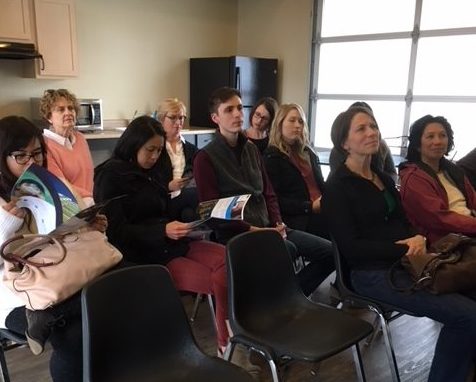 FHDC's Kari Johnsen and Evolve's Jenifer Dettmann share insight