We took an evening recently to catch up with 6 of the 7 Promotores — Josefina, Florinda, Maria, Maricela, Martha, and Minerva, our brave and dedicated leaders. Every week until the end of January we will feature one woman, highlighting their dreams, reflections, and goals as we welcome a new year and a new decade. 
This week we feature Josefina, Nuevo Amanecer Resident, Mother, and Promotora!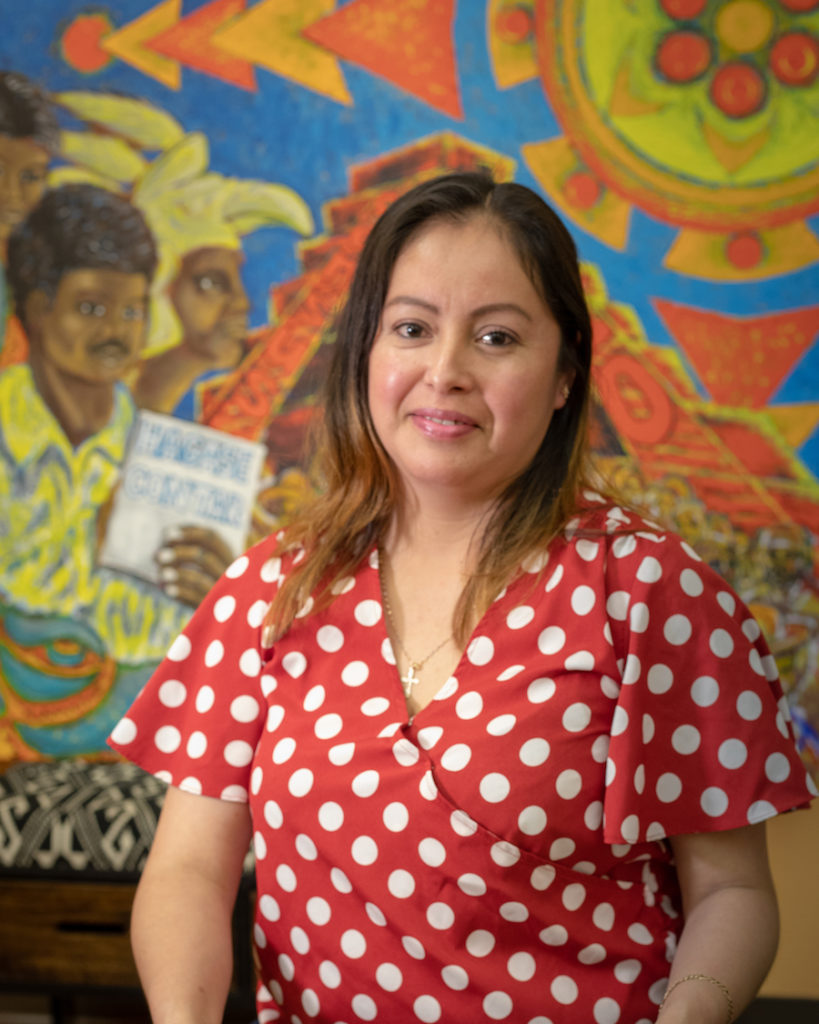 On Being a Promotora:
Me gusta siempre estar apoyando…mi familia, mis vecinos, mi comunidad. Me gusta compartir información. Me gusta aprender para saber, más que nada. Me gusta que podemos ir a diferentes lugares y aprender las cosas de diferentes temas. He aprendido de hablar en público y en grupos. 
I always like to be supporting something… my family, my neighbors, my community. I like to share information. I like to learn to know, more than anything. I like that we can go to different places and learn things about different topics. I have learned to speak in public and in groups.
What type of advocacy you want to focus on
Tengo el sueño de todos… me gustaría pelear para los derechos de los inmigrantes 
I have everyone's dream … I would like to fight for immigrant's rights
When Looking in the Mirror:
Al verme en espejo veo un reflejo de mi mismo. "Yo soy asi, yo soy como soy, y puedo hacer muchas cosas y mis metas, las puedo cumplir."
"When I look in the mirror, I see a reflection of myself –"I am like this, I am as I am – I can do many things and I can fulfill my goals.""
---
About the Promotores Program
Following the hiring of Promotores Leadership Development Coordinator, Anabel Hernandez-Mejia, the Promotores Program was developed and launched in the Spring of 2019 to increase individual skills, community building, overall understanding of and access to services, and to create a sense of advocacy within the wider community regarding issues that affect our communities of predominantly immigrant, low-income farmworkers and families.
A prerequisite 5-day training with the Ford Family Foundation finalized the recruitment, followed by a 3-day Promotores Initiation Training, leading to 7 Promotores formally entering the Program, all women from 6 of our Woodburn properties, eligible to receive stipends and skill-building opportunities to help them and their neighbors achieve their goals. To date, all Promotores have participated in between 10-20 events each, ranging from trainings in confidence and public speaking, affordable housing, health access, food and nutrition, educational access, and more.
Promotores now meet regularly to discuss their goals and the needs within the community, and frequently take on leadership roles at FHDC and community events to ensure families get their basic needs met. Promotores practice and learn effective communication skills which help them motivate and identify and advocate for the needs within the community.