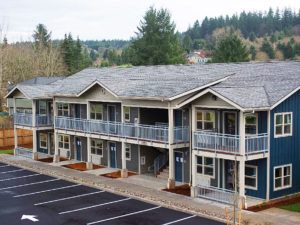 FHDC will celebrate the grand opening of Colonia Jardines, our newest farmworker property, on May 17th!  Colonia Jardines offers comfortable apartments for farmworkers and their families in the verdant setting of Silverton, OR.
Colonia Jardines is made possible through the help of the following partners: USDA Rural Development, Oregon Housing and Community Services, Dept. of Housing and Urban Development, Citizens Bank, CASA of Oregon, LMC Construction, and AC & Co. Architecture.
Mirna Reyes-Bible, Senior Financial and Loan Analyst of USDA Rural Development will speak.  More event details are still being planned.  Stay tuned!