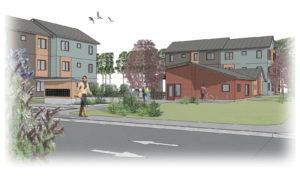 Farmworker Housing Development Corporation (FHDC) will build Park Avenue Apartments, a new construction project located in Woodburn, Oregon which will provide 44 units of combined farmworker and workforce housing.  Overall, the development will serve the extremely low-income population with seven units at 40% AMI, three units at 45% AMI, 15 units at 50% AMI, seven units at 55% AMI and the balance with rents affordable at 60% AMI, all of which would be further subsidized through Project-Based Vouchers.  Fifty percent of the units will be designated to serve agricultural workers (a person working in connection with cultivating the soil, raising or harvesting any agriculture or aquaculture commodity) and their families, while the remaining will be workforce housing units serving the general low-income population.  The mix of agricultural and workforce housing units will allow more flexibility for the adults to move and advance into other careers. This is expected to lead to more upward mobility and housing stability for agricultural worker families while also serving a broader community within the Woodburn area.
With the same allocation of funding, FHDC will rehabilitate Esperanza Court Apartments, an existing low-income agricultural worker family project also located in Woodburn.  Esperanza Court was built in 1997 using HOME funds and Farmworker Credits. Now almost 20 years old, Esperanza continues to serve farmworkers and their families with rents at 50% MFI or less.  Rehabilitation scope will focus primarily on envelope, ventilation, and some interior work.
Total OHCS 2017 funding awarded for our projects is:
$1,101,774 of Low Income Housing Tax Credit Program
$750,000 of HOME Investment Partnership Program
$760,000 of Oregon Affordable Housing Tax Credit Program
$200,000 of General Housing Account Program
$57,366 of Low Income Housing Weatherization Program
 The anticipated construction start for Park Avenue is December 2017.  Esperanza Court's rehab is scheduled to begin soon after.